Upright Piano Moving
What do you need to know about upright piano moving?
To start with:
You need strength.
The right equipment.
Spatial Awareness & High Care Level
Base knowledge of what to watch out for when moving an upright piano.
If you don't have all four of these things. Your odds of damage to you (or the movers), your piano and/or your property are extremely high. All movers are NOT equal, so always make sure you are using the right mover for what you want done. In this case: piano movers.
While anyone can technically try to move an upright piano. There is a very good reason why people recommend calling in professional piano movers to move their piano. After all, this is what they do for a living! Pianos are heavy, awkward, and top heavy which makes it easy for them to fall over. We will always recommend hiring a professional piano mover, even if you decide to use someone else. It is the right thing to do!
Strength required for piano moving
Upright pianos can weigh anywhere from 400-1000 pounds. The average upright piano is in the 450-600 pound range. If you cannot lift or manipulate at least 200 pounds of weight, you should not be trying to move a piano. You will hurt yourself or the person you are doing it with. You do not have to be big person, but there is a base level of strength required for moving pianos safely.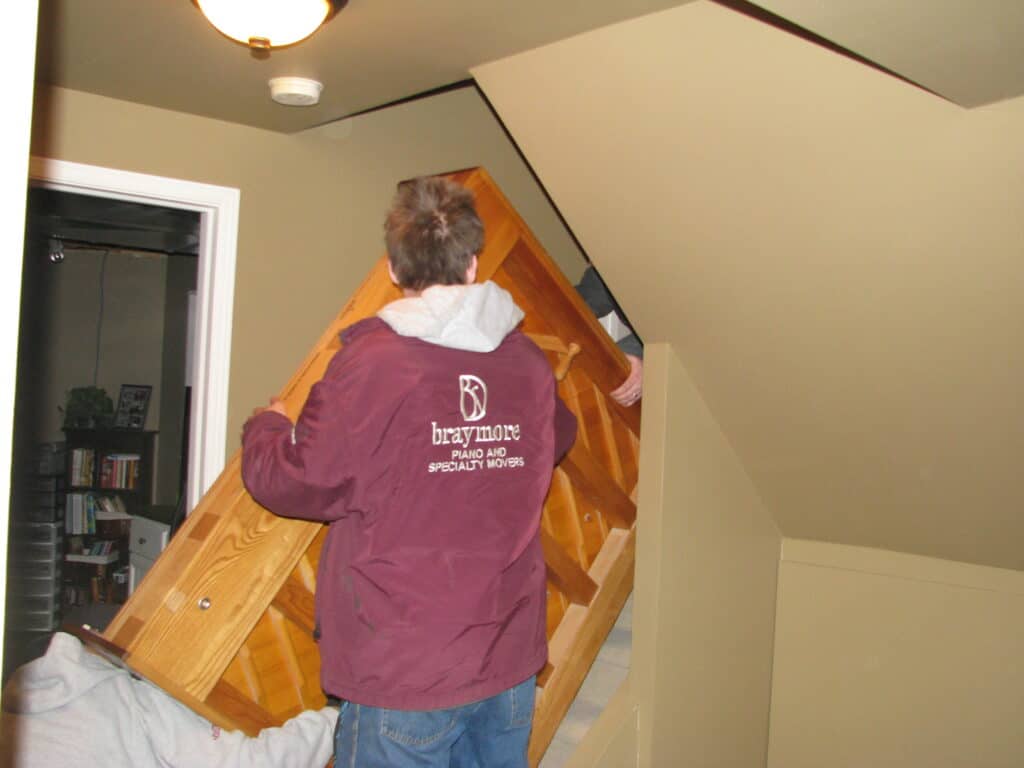 Piano moving equipment
Having the right piano moving equipment and the proper training to use it. This can make all the difference in the world. For example, if you are planning to roll an upright piano on a dolly or ramp. You have to make sure the dolly and ramp that can support its weight. This might sound obvious, but I would hazard that over 80% of pianos are moved on equipment not designed to carry that much weight. This is particularly true among household movers that move pianos. They generally use light duty dollies that are fine for general furniture use, but are not load rated for pianos.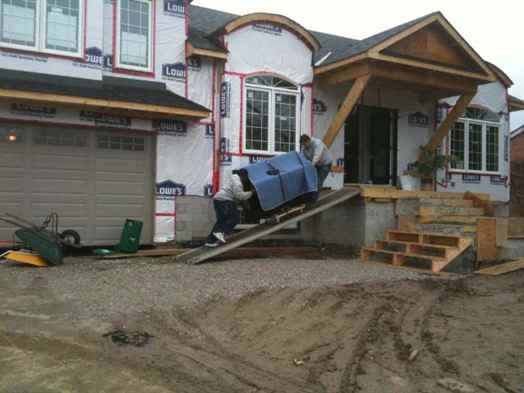 One of the most common mistake out there is using a light duty dolly to move a heavy piano. The dolly wheel breaks, piano tips over, someone or something gets damaged. Pro tip: If your dolly is rated for 500 pounds that means it is rated for 125 pounds per wheel. If you decide to lift one end of the piano, that means all the weight shifts to the other two wheels. Two wheels at 125/pounds each only can safely carry 250 pounds on them. All acoustic pianos, including the little ones are over 400 pounds. Can we say together: "TIMBER!"
The second most common mistake? Bad dolly placement! "One inch" can be the difference between a move done safely and a moving disaster. Or having a large upright piano lying on the floor with your foot or leg pinched under it. Pro tip: Just because the piano is currently not falling over on the dolly, does not mean it will not once you start rolling it.
If you are not using the right equipment or do not know how to use the equipment properly, you are not going to have a successful move. Having the right, well maintained equipment is very important in making an upright piano move easier and safer to do.
Depending on the mover, it could be any combination of many different types of equipment.
Moving blankets
Dollies
Ramps
Plywood
Piano skids
Truck tailgate (the elevator on the back of the truck)
Other custom equipment for unique moves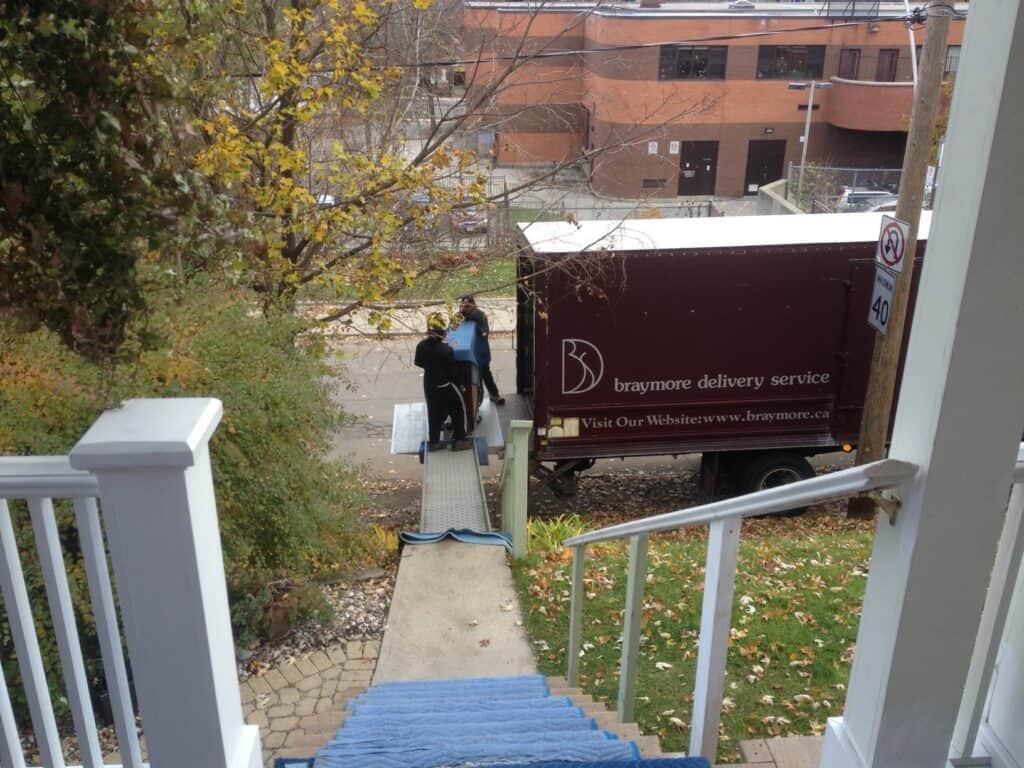 Spatial Awareness & High Care Level
Pianos are big. When you move them you cannot see everything around you. You have to have good spatial awareness to move a piano safely. To avoid banging it into things in your home like doorways or other furniture in it. Lets call it a sixth sense for moving pianos.
The best piano movers are extremely careful. They know what to look for, the best way to do it and what to avoid. The only way to get this skill, is to be taught by a pro and through daily practice of moving pianos. You can know everything there is to know about piano moving, but if you do not move them regularly, you will lose the skill.
Piano moving knowledge and wisdom
Knowledge is Power! Wisdom is knowing how to use the knowledge wisely. When it comes to piano moving, this is 100% true. Anyone who has watched a professional move a piano can vouch for this. True piano moving is about the art of piano manipulation. Today, there is generally two ways people/movers tackle moving an upright piano.
Shear manpower! Lets grab 4-6 people and lift/drag the piano with next to no moving equipment and see what happens. Your typical household mover is usually only equipped with moving blankets and tape. If you are lucky they have a dolly, but most the time it is either the wrong type of dolly or a dolly that is not load rated to carry that much weight. Depending on the mover, they might have a ramp on the back of the truck to help get it in.
Professional piano move. A standard upright piano can be moved by two professional piano movers. If there are stairs, they might send three people. They start by sizing up the move and seeing what is required. Then they setup their equipment accordingly. The movers then lift the piano either onto a proper dolly or piano skid. Once piano is prepped, they roll, slide and/or manipulate the piano to and from the truck accordingly.
While these two illustrations may sound like the same thing, they are very different to watch. Let's share a true story of how these two situations play out in the next section.
Real piano moving comparison
One of our piano movers returned one day to share this experience, which i think is a perfect example for you. We were hired by a piano store to deliver a brand new upright piano to one of their customers. Their customer had an old piano that they were getting rid of that they either sold to someone or gave away to another family member or friend. We were asked to quote the second move and the piano moving job was booked for the same day as the delivery. The customer then called back a little later, to say they will no longer require us to move the second piano. They found someone else to move the piano at a cheaper rate. No problem, we fully understand.
Delivery day arrives for the new piano. Our piano movers arrive on site and are told they will have to wait. The other movers they hired, have not arrived to pickup the old piano yet, they are running late they should arrive in the next 15-30 minutes. We get the "ok" from piano store to wait, as there will be a surprise charge to store for waiting time to have us sit there and wait for them to show up. Our piano movers park across street to stay out of other movers way.
The other movers arrive, they have a basic truck with a pull out ramp on the back. It is obvious to us, that these are just regular basic household movers that claim they know how to move pianos. Two movers get out of the truck and head into the house with a basic dolly for rolling the piano out of the house. The movers roll the piano to the porch, which has four steps coming down. They then proceed to try and physically carry it down the stairs. The lady customer and her teenager get conscripted into the piano move to help lift and hold balance as they carry it down the stairs. The lady starts to panic and then yells across the street at our movers to come and bail them out as they were going down the stairs. It was obvious to everyone, that this piano move was an accident waiting to happen. Unfortunately, due to insurance and liability reasons, our movers are not allowed to intercede and this is a fluid situation. The movers get the piano down the stairs, place the piano back on their dolly and roll it up their ramp and into the truck. Our piano movers could not see how they ended up securing it in the truck from where he was, but "Gong Show" was the basic description of what he had just witnessed. They leave.
Our two piano movers can now setup for our piano move delivery. They placed a special ramp over the stairs. They used a power tailgate (elevator on truck) to bring the piano safely to the ground. They rolled the piano effortlessly up the ramp and into the house. The piano was protected with heavy duty moving blankets as they went through the doorways. The customer did not have to assist with the move in any way, shape or form.
Identical move, with two very different experiences. The only difference was going up vs. down the porch steps. In case you are wondering: Technically, the move going in was considered the harder direction to move these pianos. Was saving a few dollars worth it? For each person, that question has very different answers. Only you can decide for yourself, which makes the most sense for you.
Looking for a professional piano mover?
Unfortunately, you cannot take the movers word for it. Ours included. There is no school for piano moving or universal certificate you can get for it to show that you are properly trained for moving pianos. Everyone's definition of what a professional piano mover is, is completely different. So if that is true: "How do you get the right professional piano mover?"
Do the research, ask around for personal feedback and read the reviews.
Why choose Braymore Piano Mover?
Braymore has been moving pianos since 1981.
Braymore currently is the largest piano mover in Canada.
Braymore has the best equipped piano movers around.
Braymore trains its movers (in house) with proven piano moving technics.
When you ask around, you will hear repeatedly from non-bias sources that Braymore is one of the best companies out there for moving pianos. Do not take our word for it.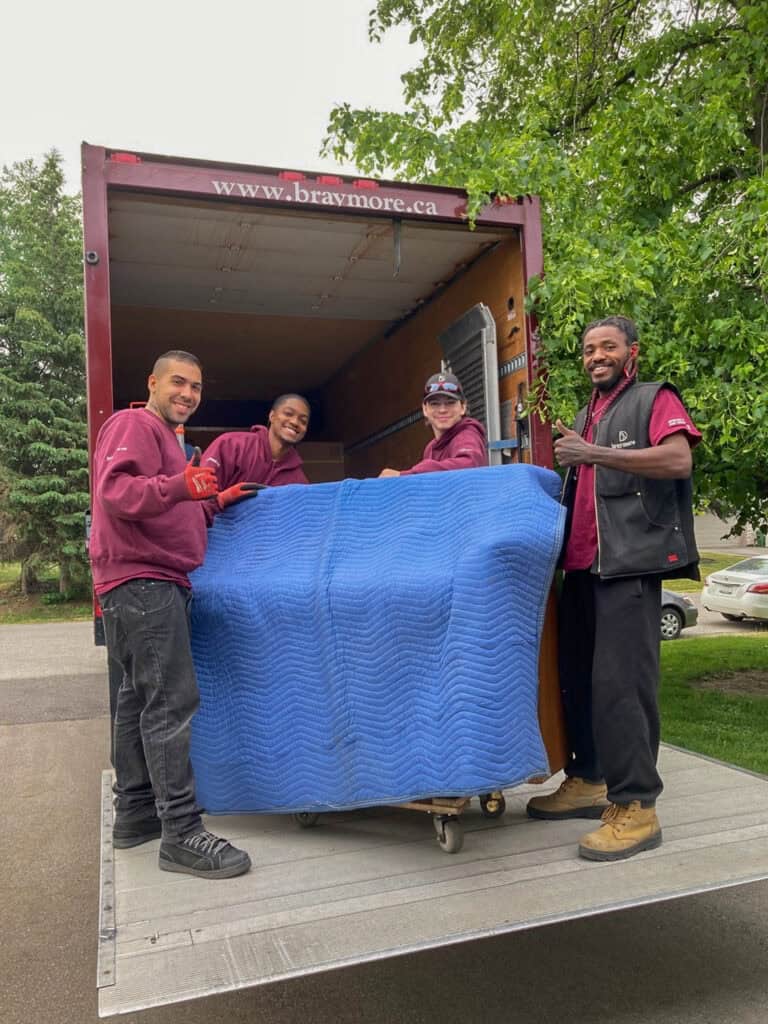 Want to learn more?
Contact our staff to see how Braymore can take care of all your upright piano moving needs today.
Click here: To get a piano moving quote.
Or Call 416-749-2100 extension 1 for piano moving.